Pengaruh Produk dan Media Sosial Terhadap Keputusan Menginap Pada Hotel Syariah di Bandung, Jawa Barat
Keywords:
Sharia Product, Social Media, Staying Decision, Sharia Hotel
Abstract
Hotel Syariah merupakan salah satu model hotel yang memiliki produk dan jasa hotel yang sesuai dengan nilai-nilai Islam. Perkembangan hotel syariah di Bandung mulai berkembang dengan bermunculan hotel syariah, namun dengan maraknya perkembangan pariwisata halal, berdasarkan data tingkat hunian hotel syariah di Bandung masih berada di bawah 50%, di bawah Bandung city occupancy. Tentunya banyak faktor yang mempengaruhi hal tersebut, di antaranya adalah produk dan media sosial sebagai media pemasaran. Penggunaan media sosial sudah menjadi tren saat ini, di mana hotel pun banyak menggunakan media sosial sebagai sarana untuk melakukan pemasaran. Dalam penelitian ini peneliti ingin mengetahui hubungan antara produk syariah dan media sosial terhadap keputusan tamu menginap di hotel syariah di Bandung, Adapun dimensi dalam produk syariah yaitu fasilitas umum, fasilitas kamar, desain, prosedur dan kualitas pelayanan, sedangkan untuk media sosial dimensinya adalah informasi, keamanan, kemudahan, kenyamanan dan kualitas pelayanan.  Variabel bebas dalam penelitian produk hotel syariah (X1) dan media sosial (X2), sedangkan variabel terikat dalam penelitian ini adalah keputusan tamu menginap (Y).  Jenis penelitian ini adalah deskriptif verifikatif, sedangkan  analisis data dalam penelitian ini menggunakan analisis regresi berganda. Hasil penelitian menunjukkan bahwa produk syariah berpengaruh positif dan signifikan terhadap keputusan menginap di hotel syariah di Bandung, dengan nilai koefisien regresi senilai 0,524 satuan, berarti bahwa dengan pertambahan produk syariah akan menambah keputusan tamu menginap, sedangkan untuk media sosial berpengaruh dengan nilai koefisisen regresi sebanyak 0.787 satuan, yang berarti setiap pertambahan upaya media sosial di hotel syariah maka akan menambah keputusan menginap pada hotel syariah di Bandung. Pengaruh produk syariah dan media sosial secara bersamaan berpengaruh signifikan terhadap keputusan menginap sebesar 55,6%, sehingga sisanya 44,4% dipengaruhi oleh faktor-faktor lain.
References
Al-Hasan, F. A. (2017). Penyelenggaraan Parawisata Halal di Indonesia (Analisis Fatwa DSN-MUI tentang Pedoman Penyelenggaraan Pariwisata Berdasarkan Prinsip Syariah). Al-Ahkam Jurnal Ilmu Syari'ah dan Hukum, 2(1). https://doi.org/10.22515/alahkam.v2i1.699
Alalwan, A. A. (2018). Investigating the impact of social media advertising features on customer purchase intention. International Journal of Information Management, 42, 65-77. https://doi.org/10.1016/j.ijinfomgt.2018.06.001
Ariyanto, A. F. (2012). Desain Interior Hotel Syariah. Pendhapa, 3(2), 34-51.
Bohari, A. M., Hin. C. W., & Fuad, N. (2013). An analysis on the competitiveness of halal food industry in Malaysia: an approach of SWOT and ICT strategy. Geografia – Malaysian Journal of Society and Space, 9(1), 1-11.
Battour, M., Ismail, M. N., & Battor, M. (2010). Toward a Halal Tourism Market. Tourism Analysis, 15(4), 461-470. https://doi.org/10.3727/108354210X1 2864727453304.
Cahyani, E. N., & Fitriyani, E. (2021). ANALISIS INSTAGRAM SEBAGAI SOCIAL MEDIA MARKETING DI INDUSTRI PERHOTELAN. Jurnal Ilmiah Hospitality, 10(1), 29-46. https://doi.org/10.47492/jih.v10i1.642
Dewan Syariah Nasional-Majelis Ulama Indonesia (DSN-MUI). (2020). Senarai Perusahaan Bersertifikat. DSN-MUI. https://dsnmui.or.id/sertifikasi/senarai-perusahaan-bersertifikat/.
Fathi, E., Zailani, S., Iranmanesh, M., & Kanapathy, K. (2016). Drivers of consumers' willingness to pay for halal logistics. British Food Journal, 18(2), 464-479. https://doi.org/10.1108/BFJ-06-2015-0212
Henderson, J. C. (2010). Sharia-compliant hotels. Tourism and Hospitality research, 10(3), 246-254. https://doi.org/10.1057/thr.2010.3
Howard, P. N., & Parks, M. R. (2012). Social media and political change: Capacity, constraint, and consequence. Journal of communication, 62(2), 359-362. https://doi.org/10.1111/j.1460-2466.2012.01626.x
Idris, J., & Abdul Wahab, N. (2015). The competitive advantages of Sharia-compliant hotel concept in Malaysia: SWOT analysis. Proceeding of the 2nd International Conference on Management and Muamalah 2015 (2nd ICoMM), pp. 200-209.
Kemp, S. (2022, February 15). Digital 2022: Indonesia. DATAREPORTAL. https://datareportal.com/reports/digital-2022-indonesia
Kim, H., & Niehm, L. S. (2009). The impact of website quality on information quality, value, and loyalty intentions in apparel retailing. Journal of interactive marketing, 23(3), 221-233. https://doi.org/10.1016/j.intmar.2009.04.009
Kotler, P. T., & Armstrong, G. (2018). Principles of Marketing (17th ed.). Pearson.
Mansouri, S. (2014, January). Role of halal tourism ideology in destination competitiveness: A study on selected hotels in Bangkok, Thailand. In International Conference on Law, Education and Humanities, Pattaya, Thailand (Vol. 3031).
Mursal. (2020). Pengembangan Ekonomi Syariah Berbasis Kearifan Lokal (Teori dan Praktik). Calina Media.
Othman, N., Taha, R. M., & Othman, S. (2015). Maqasid al Shariah in the governance and management strategy of Islamic tourism businesses. Malaysia: International Institute of Advanced Islamic Studies (IAIS).
Rahardi, N., & Wiliasih, R. (2016). Analisis Faktor-Faktor yang Mempengaruhi Preferensi Konsumen Terhadap Hotel Syariah. Jurnal Syarikah: Jurnal Ekonomi Islam, 2(1), 180-192. https://doi.org/10.30997/jsei.v2i1.293
Razalli, M. R., Yusoff, R. Z., & Mohd Roslan, M. W. (2013). A framework of halal certification practices for hotel industry. Asian Social Science, 9(11), 316-326. https://doi.org/10.5539/ass.v9n11P316
Riyanto, S. (2012). Prospek Bisnis Pariwisata Syariah. Jakarta: Republika.
Rosenberg, P., & Choufany, H. M. (2009). Spiritual Lodging- Sharia Compliant Hotel Concept. HVS. Dubai: Global Hospitality Service.
Sahida, W., Rahman, S. A., Awang, K., & Man, Y. C. (2011, October). The implementation of shariah compliance concept hotel: De Palma Hotel Ampang, Malaysia. In 2nd International Conference on Humanities, Historical and Social Sciences (Vol. 17, pp. 138-142).
Samori, Z., & Rahman, F. A. (2013). Towards The Formation of Shariah Compliant Hotel in Malaysia: An Exploratory Study on Its Opportunities and Challenges. The 2013 WEI International Academic Conference Proceedings, 108-124.
Syam, S. (2012). Pengaruh Bauran Pemasaran Terhadap Keputusan Pembelian Motor Yamaha Mio Pada PT. Suraco Jaya Abadi Motor di Makassar [Unpublished Bachelor's Thesis]. Universitas Hasanuddin Makassar.
Taylor, S. E. (2011). Health Psychology (9th ed). New York: McGraw-Hill Education.
Zhu, F., & Zhang, X. (2010). Impact of Online Consumer Reviews on Sales: The Moderating Role of Product and Consumer Characteristics. Journal of Marketing, 74(2), 133–148. https://doi.org/10.1509/jm.74.2.133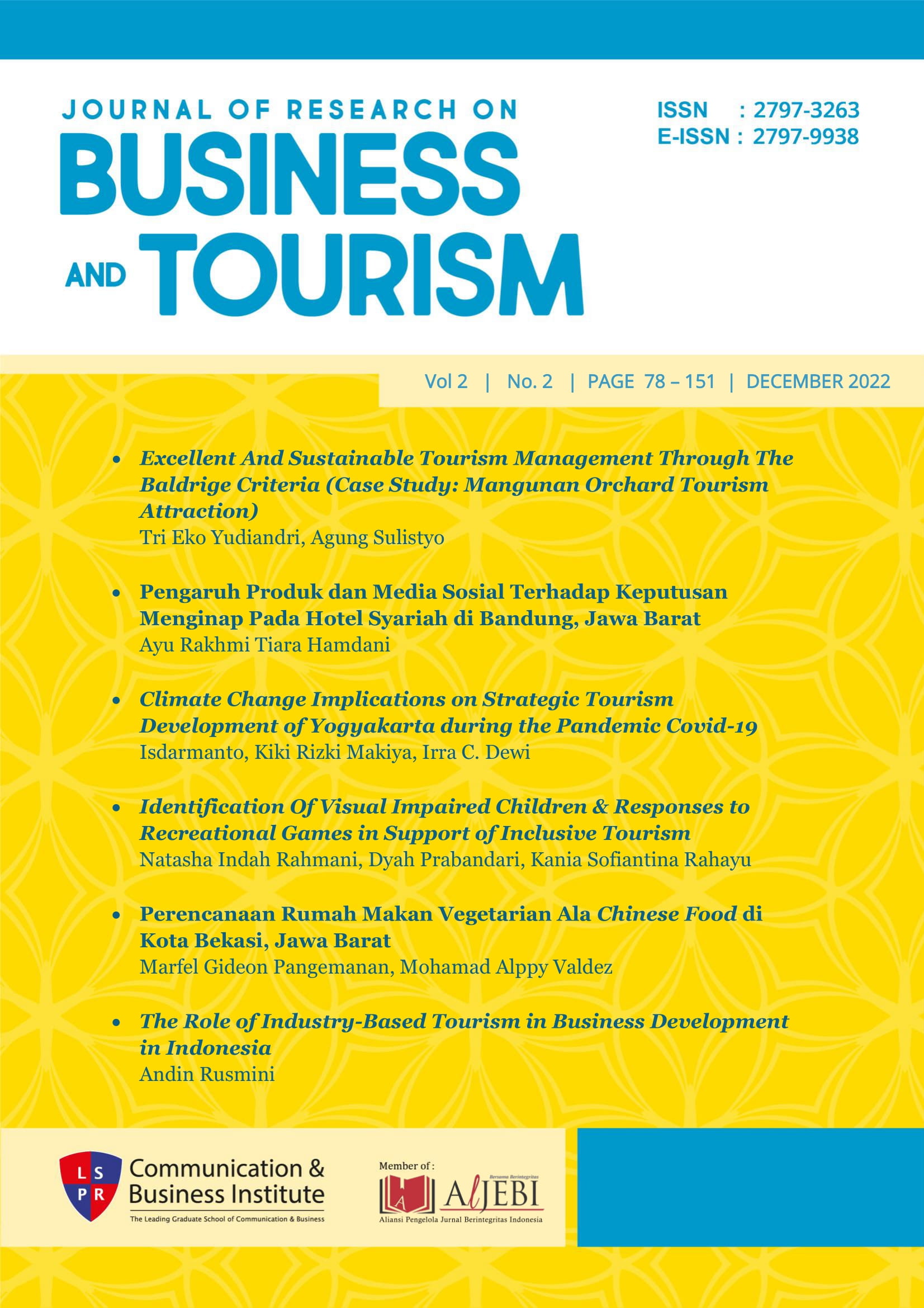 Downloads
How to Cite
Hamdani, A. R. T. (2022). Pengaruh Produk dan Media Sosial Terhadap Keputusan Menginap Pada Hotel Syariah di Bandung, Jawa Barat. Journal of Research on Business and Tourism, 2(2), 95–108. https://doi.org/10.37535/104002220222